The Material
A scientific breakthrough, UBQ™ is the most climate-positive
thermoplastic material on the market, made from landfill-destined waste.
With UBQ™, manufacturers are finally able to create products that
positively impact our world without compromising on profitability.
Tablet: 100% UBQ™, a sustainability additive that can be used as a drop-in ingredient to standard manufacturing processes.
Custom Compounds and Masterbatches: Expert consultations and custom formulations provided to maximize carbon offsets for individual process and product specifications.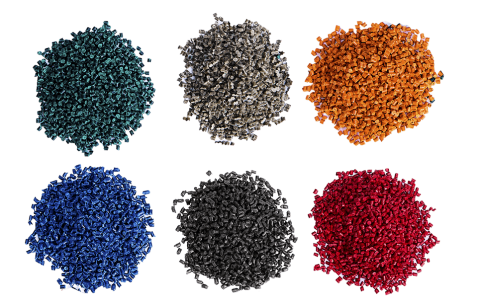 Made from Waste
Where there are people, there is waste.
2 billion tons of household waste are generated each year and this number
is expected to double by 2050.
UBQ Materials offers a solution to this growing crisis by unlocking the
hidden value of waste. UBQ™ is converted from 100% unsorted household
waste diverted from landfills – everything from food residues and mixed plastics
to cardboard, paper, and even dirty diapers. Metals and minerals are removed and recycled in the conversion process; all that remains is transformed into UBQ™ – nothing goes to waste.
UBQ™ is not a plastic treatment or recycling technology; it is an advanced material company. UBQ Materials addresses the waste crisis as a whole by functioning independently of recycling or waste management infrastructures in its resources, processes, and economics.
By introducing a novel, raw material to the industry, UBQ Materials closes
the loop on unsustainable waste disposal and provides a path to a truly
circular economy.
Climate Positive
UBQ™ serves as a powerful sustainability additive for the manufacturing industry. Integrating UBQ™ into industrial resins enables manufacturers to offset or reduce the carbon footprint of final products.
By diverting landfill-destined waste, UBQ™ prevents the emission of methane, groundwater leaching and other environmental harms. Every ton of UBQ™ produced prevents GHG emissions equivalent to 11.7 tons of CO2; life cycle assessment auditors Quantis have designated UBQ™ as "The Most Climate Positive Thermoplastic Material on the Market".
Significance of Climate Positivity
Production of UBQ™ leaves a positive environmental footprint, meaning that products manufactured with UBQ™ can actively advance companies' carbon reduction goals.
Bio-Based
UBQ™ is a USDA Certified Biobased product, labeled to certify that the majority of content within the material is bio-based. In the case of UBQ™, this speaks to the ratio of organic matter to mixed plastics in household waste. Third-party verification for this label was administered through the USDA BioPreferred Program.
Why is bio-based better?
Bio-based resources, such as plant, animal, marine, or forestry feedstocks, are 100% renewable. Utilizing renewable materials displaces the need for non-renewable petroleum-based products.
Bio-based products capture the carbon stored by the plant during its lifetime, playing an important role in reducing the greenhouse gas emissions that exacerbate global climate change.
Bio-based products are cost-comparative, readily available, and can perform as well as or better than their conventional counterparts while contributing to an ever-expanding marketplace that adds value to renewable agriculture commodities and creates jobs in rural communities.
Bio-based products made from agricultural residues ­and other waste materials provide value without competing with food crops or contributing to deforestation.
Recyclable
UBQ has worked closely with third-party validators such as Quantis, Vireo Advisors and SystemIQ, testing the technical properties and recyclability of UBQ™. According to Richard McKinley, head consultant of Axion, "products made with UBQ™ masterbatch (with polypropylene) can be recycled alongside other standard polymers with no negative impacts to the resulting product". UBQ Materials will verify the internal recyclability findings of other compounded materials as needs arise with our clients.
Cost Effective
Better for the environment is better for business.
UBQ™ can be used in existing manufacturing processes as a replacement for plastics, concrete, wood and minerals without additional adaptation costs. UBQ™ is competitively priced to meet the market costs of virgin plastics. Beyond price parity, UBQ provides long-term fixed prices unaffected by market volatility, as household waste is (unfortunately) an abundant resource, available year-round.
The decision to implement UBQ™ is a simple one: no difference in price, no difference in quality, appearance or performance – but for the environment, it makes all the difference.