TEL AVIV, Israel – September 28, 2023 – UBQ Materials, climate tech developer of advanced materials made from household waste, today announced winning the Suppliers Partnership 'Demonstrating Environmental Innovation in the Manufacturing Process Award' together with automotive supplier ConMet and specialty compounder, Polyram, for developing a reduced-carbon footprint material for automotive applications incorporating UBQ™.
The three companies partnered to develop a short glass fiber-polypropylene compound implementing UBQ Materials' bio-based thermoplastic, UBQ™. The material serves as a sustainable alternative to fossil-based plastics. UBQ Materials converts residual household waste diverted from landfills or incineration, including all organics, into an advanced thermoplastic material that is both climate-positive and highly recyclable.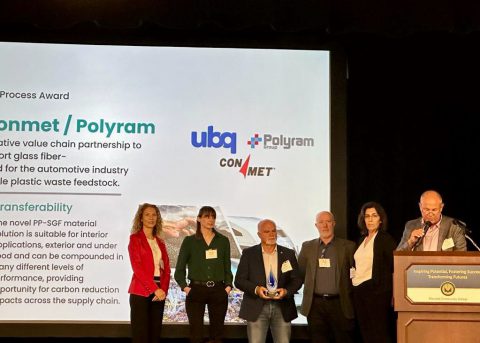 The 2023 Environmental Sustainability Awards are run by The Suppliers Partnership for the Environment, an association of global automakers and their suppliers working together to advance environmental sustainability through the automotive supply chain. The awards recognize and raise awareness of environmental sustainability successes within the automotive supply chain, while promoting knowledge sharing and transfer of proven solutions across the automotive industry.
"On behalf of SP, I would like to thank and commend each of our award recipients this year for their dedication and leadership in improving the environmental sustainability of the automotive supply chain, and for sharing their expertise and successes for others in the industry to learn from their leadership and action" said Steve Hellem, Executive Director, Suppliers Partnership for the Environment.
"As the automotive industry continues to adapt to meet climate goals, more opportunities will develop to implement sustainable, advanced materials across applications," said Sophie Tuviahu, VP Sales and Business Development, UBQ Materials. "Following our successful history of collaboration with automotive partners, this award again demonstrates the versatility of UBQ™ across applications and the valuable climate impact it can offer the industry."
Since early 2020, UBQ Materials has developed a track-record of successful collaborations within the automotive industry. Mercedes-Benz introduced UBQ™ into the shell structure and interior of its all-electric VISION EQXX car. UBQ is actively expanding its activities in the automotive industry, working with OEMs and their suppliers to maximize circular economy to enable carbon reductions and insetting within the supply chain by implementing UBQ materials in as many parts as possible. Applications include vehicle parts: interior, exterior, visible, and non-visible.
About UBQ Materials Ltd.
UBQ Materials Ltd. closes the loop between the ecosystems of waste and materials. Through its advanced conversion technology, UBQ Materials Ltd. is creating bio-based thermoplastic, UBQ™, made entirely from organic and unrecyclable household waste. An easy material swap for fossil based plastic, UBQ™ preserves finite resources, prevents methane and CO2 emissions in landfills and incinerations and provides a climate positive solution for a circular economy. A certified B Corp, UBQ Materials is a globally expanding company providing the world's largest businesses, municipalities and consumers the ability to create a truly circular economy where human consumption lives in harmony with the planet.
Learn more by visiting www.ubqmaterials.com
About SP
The Suppliers Partnership for the Environment (SP) provides a forum for global automotive manufacturers and their suppliers to work together toward a shared vision of an automotive industry with positive environmental impact. Through SP, automotive industry leaders are coming together to share best practices and advance action on key environmental sustainability priorities such as carbon neutrality, sustainable materials management and water stewardship. Learn more at: www.supplierspartnership.org
Media Contact
FINN Partners for UBQ Materials
Nicole Kaufman Grubner
Nicole.grubner@finnpartners.com
+972-58-444-5418