Seamless Integration
UBQ™ is a powerful sustainability additive with flexibility across processes and materials. Working seamlessly with today's standard manufacturing machinery, UBQ™ is a climate-positive substitute to plastic, concrete, wood and minerals. As with any other polymer, virgin or recycled, UBQ™ can be compounded with additives commonly used in the industry to address product specifications such as coloration, impact strength or UV resistance.
Compatible Technologies
Extrusion
3D printing
Injection molding
Compression molding
Compatible Materials
Polypropylene (PP)
Polyethylene (PE)
Polyvinyl chloride (PVC)
Polystyrene (PS)
Acrylonitrile butadiene styrene (ABS)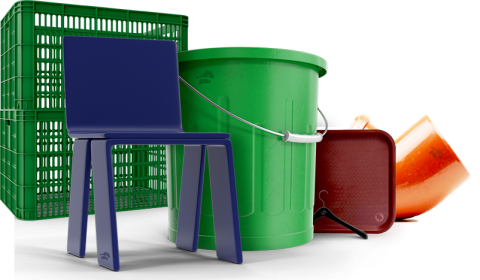 Industries
Retail
The fashion industry accounted for around 4% of 2018's global greenhouse gas (GHG) emissions. While most of the focus has been on textile waste, retail items like clothes hangers have an overlooked contribution to this carbon footprint. Hangers are reusable, but it is becoming increasingly common to use them only a single time. It is thought that 8-10 billion metal and plastic clothes hangers are produced each year, only 15% of which are recycled. This wastefulness is starting to draw public attention, even being compared to plastic straws.
Solutions include reuse and recycling programs, but it is also important to choose more sustainable materials from the beginning. The world of fashion and apparel meets sustainability with UBQ™-composed products. The largest hanger company in the world, Mainetti, offers hangers with UBQ™ material. The possibilities are endless.
Automotive
As the automotive industry shifts away from internal combustion engines and toward electric vehicles, the emissions caused by driving our cars will continue to shrink. This means that the contribution of auto manufacturing to a car's lifetime GHG emissions will grow more and more important. Data shows that as of 2018, the auto industry contributed approximately 9% of global GHG emissions. Currently, roughly one-fifth of this (corresponding to nearly 2% of the total) is from material production, but this share is expected to rise to more than 60% by 2040.
As plastic makes up a large part of modern automobiles (50% by volume, 12-17% by weight), it represents a prime opportunity to reduce the industry's manufacturing footprint—and one that UBQ is poised to address. Luxury car manufacturers such as Daimler are already partnering with UBQ and substituting oil-based plastic parts with the greenest thermoplastic material in the world without compromising on the quality or magnificence of their cars.
Construction
Similarly to automobiles, as the energy consumed by buildings gets cleaner, the materials used to build them will play a larger role in their overall carbon footprint. In 2018, the building industry produced 39% of energy- and process-related CO2 emissions. Included in this number is the manufacturing of building materials such as steel, cement, and glass, which accounted for 11% of emissions. These are called embodied emissions. They are baked into the building's carbon footprint and are not affected by later decisions like powering the building with renewable energy.
Today, the embodied carbon of construction is roughly 3.7 billion metric tons CO2 each year. The World Green Building Council has issued a call to reduce embodied carbon by 40% by 2030 in new and renovated buildings and to reach net-zero embodied carbon by 2050.  The advancement of zero-carbon buildings is both possible and cost effective with UBQ, from flooring to piping and beyond.
Furnishing
The consumption of furniture is growing. In the US, the amount of furniture discarded as waste each year increased by nearly 50% between 2000 and 2018. Given this increased consumption, it is ever more important to minimize the carbon footprint of each piece of furniture. In the UK alone, the manufacturing of furniture produced 843,100 metric tons CO2eq in 2018.
According to the Furniture Industry Research Association, common furnishings such as office chairs, bookshelves, and sofas are responsible for up to 90 kg CO2eq each by the time they leave the factory. Components made of metal and wood are among the chief contributors to furnishings' carbon footprints. Replacing these with plastic when possible is one way to lower an item's carbon footprint—and incorporating UBQ™ can make an even greater difference. UBQ enables furniture manufacturers to create household items such as chairs, tables, closets, sheds and more, all while meeting sustainability objectives to reduce their carbon footprint.
Logistics
Imagine shipping pallets, storage units or municipal garbage bins made out of landfill waste like banana peels, dirty diapers and chicken bones. The state of Virginia led the way with garbage bins made from UBQ™, and so can you.
The logistics sector was estimated to account for 5.5% of global GHG emissions in 2009. While transportation represents the lion's share of the total, transit packaging like shipping crates holds a significant potential for GHG reduction. For example, in 2017 the European Reusable Packaging & Reverse Logistics Consortium handled between 44 and 51 million individual reusable plastic shipping crates. While reusable is generally better than disposable, the lifetime carbon footprint of these crates depends on the material used. Maximizing the benefit of choosing reusable containers requires using low-carbon materials—or better yet, carbon-negative materials like UBQ™.