MARCH 16, 2022, AUSTIN, Texas and TEL AVIV, Israel — UBQ Materials, climate tech developer of advanced materials made from unsorted household waste, announced today that it has been named the winner in the Speculative Design category at the 24th annual SXSW Innovation Awards, which took place Monday, March 14 at 6:00 pm CT at the Austin Convention Center during the South by Southwest® (SXSW®) Conference and Festivals (March 11-20, 2022). The SXSW Innovation Awards recognize and celebrate the most exciting tech developments in the connected world.
UBQ Materials won for the first ever waste-based 3D filament made with UBQ™, the company's climate positive thermoplastic, which it developed in partnership with Plastics App, a leading R&D company in tailor-made applicative innovation for polymers and plastics. The novel filament brings a new sustainable option to the additive manufacturing space by enabling 3D printing with a significantly reduced carbon footprint.
Of hundreds of applications submitted, UBQ Materials was one of just 15 winners. Each entry was graded on four criteria: creativity, form, function and overall experience. UBQ Materials took home the top prize in the Speculative Design category, which looks at design solutions that address the challenges, opportunities and possibilities of the future. Finalists in the category included Biometric Ignited Solo Blade from SOLO Secure; Coldsnap's Flash Freeze Premium Ice Cream On-Demand; Katalyst Training System by Katalyst Interactive, Inc; and XEDEC Tri-Screen 2, by Xebec.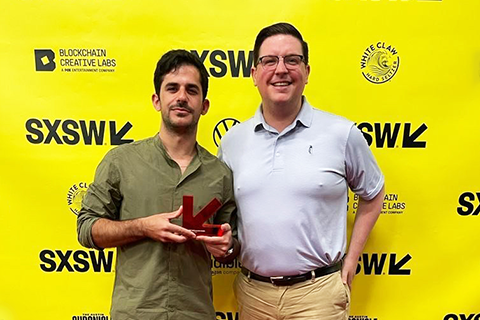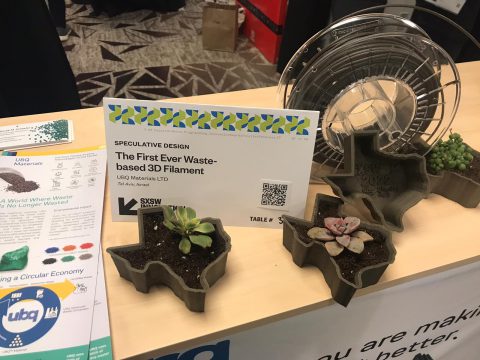 "3D printing enables manufacturers across industries the option to design complex products with near immediate customizations that otherwise might be impossible to produce using conventional manufacturing methods," said Tato Bigio, Co-CEO and Co-founder of UBQ Materials. "The use of UBQ™ in the printing filament offers manufacturers the ability to gain the benefits of 3D printing, while capitalizing on the reduced carbon footprint enabled by UBQ™. With this innovation, 3D printing may become the most environmentally conscious means of production available. We are thrilled that the SXSW Innovation Awards judging panel recognized this significant achievement and are incredibly proud to have been named the winner in this category."
UBQ Materials converts unsorted landfill-destined waste, including all organics, into a fully recyclable thermoplastic that substitutes oil-based resins for manufacturing. 3D printing – a space that has typically relied on oil-based thermoplastics. With the UBQ™-based 3D filaments, manufacturers can take full advantage of the flexibility and cost-efficiency of 3D printing, while maintaining a low-carbon footprint for eco-conscious production.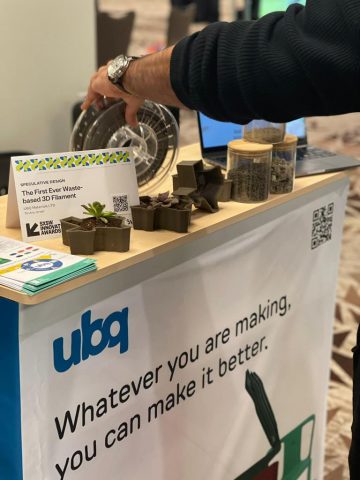 SXSW brings diverse people and topics together, and it is best known for its conference and festivals that celebrate transformative and forward-thinking projects in the fields of tech, film, music, education, and culture. Innovators and creators from around the world enter their eligible projects to vie for top honors in this unique, long-running South By Southwest® competition. For more information about the SXSW Innovation Awards and to view the complete list of 2022 winners, visit: https://www.sxsw.com/news/2022/2022-sxsw-innovation-awards-winners-announced/
About UBQ Materials
UBQ Materials Ltd. has developed an advanced conversion technology, patenting the world's first bio-based thermoplastic (UBQ™) made entirely of unsorted household waste, including all the organics—a revolutionary way to divert municipal solid waste from landfills and convert it into a sustainable substitute for oil-based plastics. A certified B Corp™, UBQ is a globally awarded climate tech company with customers including Mercedes-Benz, global retail solutions provider Mainetti, PepsiCo, and Arcos Dorados, the world's largest franchisee of McDonald's restaurants across Latin America.
With a climate-positive impact and cost-competitive price, UBQ™ empowers manufacturers with a simple transition to greater sustainability.
Learn more by visiting UBQMaterials.com.
Media Contact
Nicole Kaufman Grubner
929-588-2011
nicole.grubner@finnpartners.com