TEL AVIV – June 16, 2022 – UBQ Materials, climate tech developer of advanced materials, announced today that its novel bio-based thermoplastic is being incorporated into a new range of planters made by Crescent Garden, a premier provider of gardening containers and self-watering solutions.
The new range of planters with UBQ™, dubbed Crescent Too O+, are the first and only planters to contain the climate-positive material, and will be available to consumers and commercial gardeners. This is an important breakthrough for those in the horticulture field, where decisions are increasingly focused on what is good for the planet, in addition to what is beneficial in the garden.
"As a company focused on gardening and cultivating a healthier, sustainable environment, we have a deep understanding of why climate change needs to be addressed – and it starts with us, the producer," said Harry Tchira, President of Crescent Garden. "Through our partnership with UBQ Materials, Crescent Garden is transforming sustainability in both the home and garden spaces with our plant-positive containers that also offer a positive impact on the world."
A seamless substitute to oil-based plastics, UBQ™ is converted entirely from unsorted municipal solid waste, including organics such as garden trimmings, soiled cardboard, and food waste, that would have otherwise been directed to landfills. UBQ™ has already been adopted by leading industry enterprises and is used for manufacturing durable products with reduced or even positive environmental footprints.
This collaboration's aim is to introduce more planet-positive variety to Crescent Garden's containers without inhibiting beauty, function or value. The first styles to launch with UBQ™ inside are the Emma line and TruDrop container inserts, best-sellers that present opportunity for high-volume and high visibility within the portfolio.
The Crescent Too O+ planters will be launched at GAFA in Cologne, Germany, which is taking place from June 19 to June 21, and will be showcasing the UBQ products in its booth, Hall 10.1; Stand #F050 G051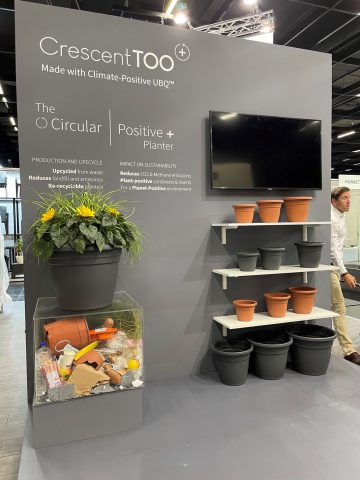 About UBQ Materials
UBQ Materials Ltd. has developed an advanced conversion technology, patenting the world's first bio-based thermoplastic (UBQ™) made entirely of unsorted household waste, including all the organics—a revolutionary way to divert municipal solid waste from landfills and convert it into a sustainable substitute for oil-based plastics. A certified B Corp™, UBQ is a globally awarded climate tech company with customers including Mercedes-Benz, global retail solutions provider Mainetti, PepsiCo, and Arcos Dorados, the world's largest franchisee of McDonald's restaurants across Latin America. With a climate-positive impact and cost-competitive price, UBQ™ empowers manufacturers with a simple transition to greater sustainability.
Learn more by visiting www.ubqmaterials.com.
Media Contact
Nicole Kaufman Grubner
929-588-2011
nicole.grubner@finnpartners.com