On September 29, I was incredibly honored to have the chance to speak at the residence of the British Ambassador to Israel. The European Green Investment Summit brought together 20 British Embassies in advance of COP26, the UN's global climate conference to be hosted by the UK starting later this month. I also had the pleasure of hearing from other Israeli innovators as well as UK Investment Minister, Lord Grimstone, who spoke remotely from the PreCOP in Milan.
The evening was hosted by the British Embassy's UK Israeli Tech Hub, a strong advocate for forging connections between British businesses and the innovators in Israel's green tech space. The Hub also encourages businesses to join the UN's Race to Zero campaign by making net-zero emission pledges. As the first—and, so far, the only—Israeli company in the Race to Zero, UBQ Materials was invited to take part in the event by PLANETech, a nonprofit supporting sustainable innovation in Israel.
At UBQ, we believe deeply in the power of Israeli innovation to help the world step up to the challenges we face. In my remarks, I shared UBQ's commitment to reach net-zero greenhouse gas emissions by 2030 and urged our fellow companies to join us on this journey.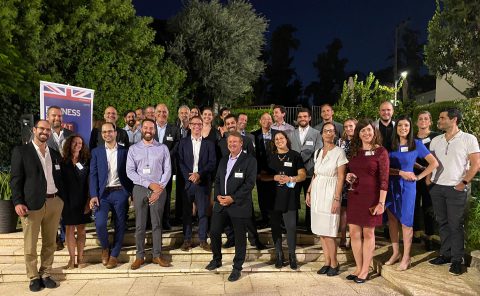 It was a beautiful, inspiring evening, made even more so by the contrast with the past year and a half. I joined UBQ a few months before Covid-19 hit, and this was my first in-person public event since the pandemic. To leave lockdown only to be surrounded by people who are motivated to address the climate crisis—and excited to do the work that's required—was a real joy.
I can't wait to continue this momentum as UBQ's representative on the Israeli delegation at COP26.
Rachel Barr
VP of Sustainability
UBQ Materials